Bracelets
Amethyst, Garnet, and Black Spinel Bracelet
---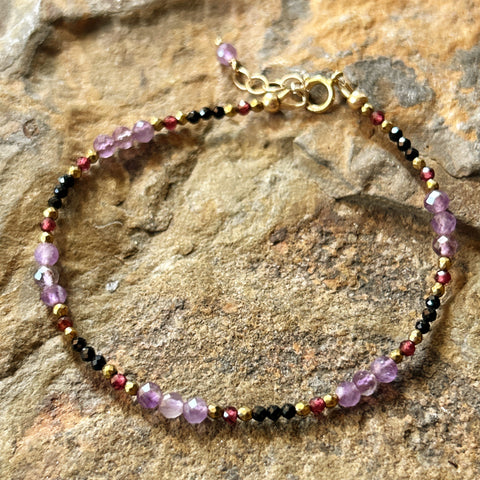 Amethyst rounds alternate with diamond cut garnets, black spinel, and sparkling gold hematine. Finished with 14K gold filled spring clasp and chain to provide adjustable sizing.
Small/Medium: 7-7.5 inches   Medium: 7.25-8 inches
Jewelry box included for easy gifting, as well as the following description of the energy of this Dancing Amulets:
The Earth centered essence of BLACK SPINEL is grounding, stabilizing, and nurturing. When aligned with the energies of supporting stones, it invokes curiosity, inspires confidence, and illuminates your personal magic.
AMETHYST, a stone of spiritual attunement, mystic strength, and joyous surrender, supports peaceful meditation and inner wisdom, and is an affirmation of abundance on all levels.
GARNET is a motivating and protective stone of warmth and desire, passion, and devotion.
Related Products
---