Vega Pink Solar Quartz Amulet
---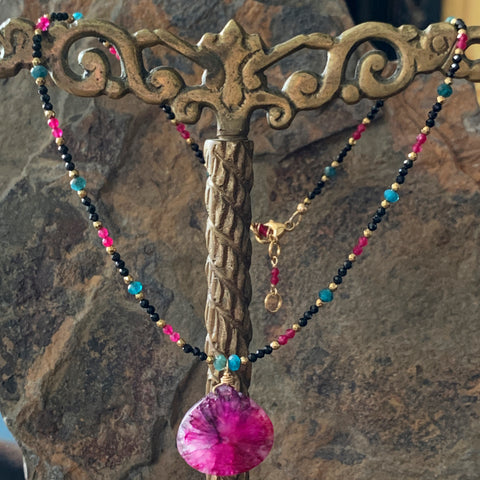 A bright pink, powerful solar quartz pendant pops from a string of blue apatite, pink chalcedony, and mystic black spinel sparkling like stars.

14K gold filled lobster clasp, adjustable to 15, 16.5, 16 inches
Handmade in NYC. Jewelry box included for easy gifting with the following description of the magic of your Dancing Amulets:
Pink solar quartz stimulates the crown chakra, connecting your physical body to your etheric body, and infusing your being with fresh energy that is healing, enlightening, and transformative. Black spinel anchors with grounding strength and a nurturing foundation to promote curiosity and dreaming. Pink chalcedony promotes inner harmony, trust, delight: enhancing communication, good will, and attracting new experiences. Apatite invigorates with motivating inspiration from magic in nature: expanding awareness, igniting creativity, opening doors of synchronicity.
 Be creative with this magical tool. the more you work with it, the more it will attune to your personal magic.
Related Products
---